Let's Raise Funds for Schools for the Deaf
Public School 47
Thanks for your help! Check out what we accomplished:
Total Amount Raised:
$10,743.99
Winning Team
Pennsylvania School for the Deaf
2nd

Place
Delaware School for the Deaf
3rd

Place
Laurent Clerc National Deaf Education Center
Rochester School for the Deaf
Marie Katzenbach School for the Deaf
Mill Neck Manor School for the Deaf
Western Pennsylvania school for the deaf 
Maryland School for the Deaf
Below, you can see the original fundraiser.
Total Amount Raised
$
10,744
Time Remaining
0 days
Test Mode
This campaign is designed for testing purposes. Use the following neutral credit card information to make a donation:
| | |
| --- | --- |
| Credit Card # | 4242 4242 4242 4242 |
| Expiration | Any future date |
| CVC | Any 3-digit number |
| Zip Code | Any valid zip code |
Public School 47
Public School 47 in New York City needs your help! We are competing against other schools in a hand-lip sync challenge; the school that raises the most money wins the competition and we want to win! Help us by donating on our video. Then share our video with all of your facebook/email friends :-) Donations go toward Junior National Association of the Deaf (Jr. NAD) in their continuing efforts to provide meaningful programs for our students.
We at PS 47 are a family of educators who are committed to providing an enriched curriculum that motivates, challenges and addresses the individual needs of every student. We adhere to a philosophy that encourages an interegrated curriculum with flexible and varied approaches to instruction that enthusiastically accepts and encourages independent and critical thinking.
Our goal is to create and maintain an environment that is fair, safe and nurturing for both staff, students and parents. We hold true to the belief that excellence in education is the minimum that we will accept for every child and take pride in the reality that we are caring professionals.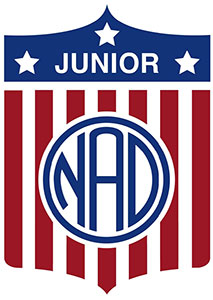 A portion of the proceeds of this Fund Duel will go to the National Junior Association of the Deaf (Jr. NAD).
Jr. Nad is an organization of, by, and for deaf and hard of hearing youth that focuses on developing interest and leadership among deaf students in state associations, schools, and/or organizations of the deaf.
Jr. NAD will be hosting its National Jr. NAD Conference in Rochester, NY from November 6 - 10, 2019! This national conference will welcome students from the Jr. NAD chapters across the United States.
This campaign is sponsored by The Junior National Association of the Deaf and the Delaware School for the Deaf
Recent Donations for the Public School 47 team
Rhonda Benbo donated $5.00.
Julia Silvestri donated $100.00.
Christy Acevedo donated $20.00.
Adam Stone donated $20.00.
Gary donated $25.00.